Description: Just as the title suggests, these are thumb style screws used for mounting rack equipment. They function in much the same way as any rack mount screw with several significant differences:

1. These screws can be installed and removed completely by hand allowing you to install and remove rack gear without the need for any tools (see photos right).

2. When speed installation is required you can use a power driver and 9mm hex socket (not included with this auction) to install these screws in just about 3 seconds (see photos - right). We don't know of any one piece rack screw / fastener that can be installed and removed as quickly.

For those who prefer to use a standard blade screw driver I have added a slot in the head so a blade screw driver can be used to tighten these further if necessary.

"How do they work? "
1) Place your gear in the rack.
2) Align the equipment holes with the rack rail holes.
3) Install the thumb screw. It's that easy.

"What racks will these work with?"
Virtually all racks including threaded rail racks and racks that have round or square hole racks that use clip or cage style retainer nuts (e.g. SKB, Gator, and others). Note: Clip / cage nuts needed when using punched hole (unthreaded) racks are not included in this auction.

"What rack equipment will these work with?"
Again, virtually all rack mount equipment can be mounted with these screws. This includes music, video, broadcast, telecom, DJ, data (server, router, switch, hub. etc).
Specifications? Unlike standard rack screws which are formed in one operation these screws are precision machined from single piece carbon steel. Five operations are needed to make each screw and for reference purposes each screw weighs 4 times what a standard phillips truss head rack screw weighs. Indeed, these are very "beefy" screws and are far more expensive to manufacturer than a standard rack screw.
Why a 9mm Hex Head?
I chose this size as it allows a socket or wrench to fit easily between 2 over & under thumb screws (see
other photos). Anything larger would prohibit installation with a socket or wrench. Anything smaller would not adequately cover the equipment panel holes.
Who make these?
These screws are designed and manufactured by us, Rack Release Systems.
About our products: Rack Release rack mount equipment screws and quick release fasteners have been used by such companies as Microsoft, Intel, Apple Computer, Cisco, 3com, Nortel Networks, The FBI, Northrop Grumman, Sun Microsystems, VeriSign, Quantum, The National Institute of Health and many more. Over 1 million Rack Release quick release fasteners have been sold since I introduced them in 1991.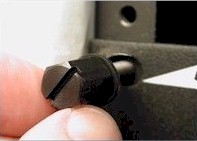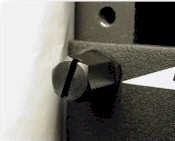 Installing By Hand
---

3 Second Install Using a Power Driver
and 9mm Hex Socket
---
What thread size is right for you? The following are the most common and we offer them all:

10-32 An American screw size. Commonly used in all rack mount applications including music, video, broadcast, data and more. 90% of the screws and fasteners we sell are 10-32. The "10" refers to the drill size for a tapped (threaded) hole. This thread has 32 threads per inch.

12-24 An American screw size still common for rack
mounting equipment particularly in the US telecommunications industry. It has 24 threads per inch. Again, the first number refers to the drill size required for a tapped (threaded) hole. It is larger in diameter than a 10-32 screw and smaller than an M6 screw. 8% of the screws we sell here in the US are 12-24.

M6 Metric thread size of 6 millimeters. Typical thread size for European rack applications. Also used in Compaq racks and Euro racks sold here in the US. Larger than both 10-32 and 12-24.

If you are unsure of your thread size take one of your rack screws to the local hardware store. They will be able tell you the exact screw size you have.
---
Additional Specs:

Material:

Carbon steel.
Black oxide coated.

Overall Length:

Approx. 1.25" (31mm)

Thread Length:

Approx. 3/4" (19mm)
---
Advantages over standard rack screws:
- No tools required. Can be installed and removed
completely by hand.
- Screw head is slotted allowing additional tightening
with a blade screw driver or coin. Hex Head is 9mm
hex and can be more securely fastened with any
adjustable wrench, 9mm wrench or 9mm socket.
- Works with virtually all racks and all rack mount
equipment.
Features:
- Slotted head for use with bladed screw driver.
- Can be installed and removed by hand. Not
tools required.
- Long 3/4" thread length works with all racks and
rack equipment.
- Available in 10-32, 12-24 and M6 (6mm) thread
sizes.
- Heat treated and black oxide coated.
- Black nylon washers are included for each screw.