Thumb Style Rack Screws - ROUND HEAD
See Order Form Below

These unique, custom designed, professional
quality rack mount thumb screws can be
installed completely by hand.
Use to mount all types of rack mount equipment
in virtually any rack including threaded rail racks and
un-threaded racks that use cage or clip
style retainer nuts.
Designed by Rack Release Systems.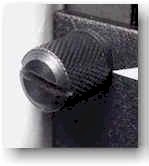 Click here for photo and
more information on
this model.
IMPORTANT: The shipping rate calculator will not function while we are in the process of upgrading our site.
Until the upgrade is complete, all orders for delivery within the US will ship via USPS Priority Mail at no charge.
Canadian customers should contact us at tobyodell@yahoo.com to receive a shipping quote.
We apologize for any inconvenience.